NYC-based Luxury Eyelash Extension Company
Dedicated in providing all lash professionals the highest of quality products and education they deserve!
Lashes for Volume Sets
Not sure what thicknesses are best for volume lash sets? Shop this curated collection of lash trays made just for volume sets to help you find what you need to create that beautiful set of your dreams while more importantly, maintaining lash integrity with the correct products!
Shop Lashes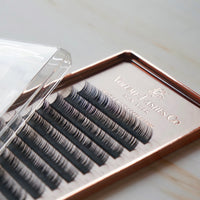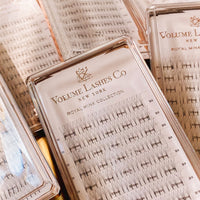 Pre-Made Volume Fans
Taking a little too long on your volume lash application and need a little boost? Choose our pre-made lash fans to help shorten your set time!
Whether you're creating a natural or glamorously dramatic lash set, our collection of lashes will surely help you create the perfect eyelashes of your client's dreams!
Shop Pre-Made Fans
Store & Protect Your Lash Strips
Create custom lash trays for your clients while keeping them safe and free from damage, dust, and debris! Our sturdy lash box provides 5 acrylic trays with dividers and a protective lid to ensure that no lashes get smushed in storage!
Shop Lash Boxes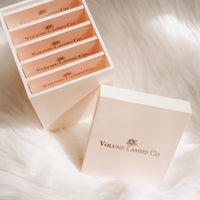 Get to know our company
About us
Here at Volume Lashes Co, we're a small Japanese-owned online luxury lash company with a focused goal to supply only the best quality of lash supplies and thorough education that each artist needs to further their career in the lash industry. Our company started up in 2019 in the heart of NYC by the multi-award winning founder and owner, TB Kim, with a dream to provide the gear, the knowledge, and the skills that it takes to become a successful lash artist.
We pride ourselves in our work and dedication to creating quality products, offering in depth training courses, and providing opportunities for artist exposures by hosting online competitions. Not only is it our mission to supply competitive artists the tools and the knowledge to help them advance in their careers, we want to see every artist be prepared for this industry and help them reach their fullest potential in their career.
For more information on us, please visit our About Us page by clicking here, or head to the main menu up top, click "More" and then click "About Us".