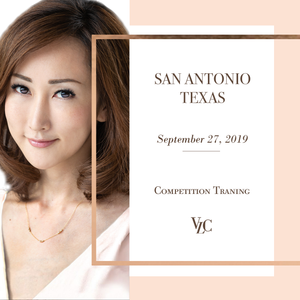 Requirements:
 - Must be proficient with classic lash application in terms of accuracy and safety.
What you'll learn:
- What to bring
- How to set up your station
- Which competitions to choose based on your goals
- Differences between Online competitions vs live competitions
- Strategies for winning a competition
- The Dos and Don'ts of the competition world
- Things to look for when choosing your model 
- Study different rules/ criteria and learn how to change your strategies based on specific competitions
- Explain what are the common mistakes and point deductions for online/ live competitions that participants do not realize
- Styling choices based on different competitions
- Open eye mapping on a live model 
We will have a mock competition at the end of our training. You'll be able to work on and perform a full set on a live model and a critiquing session will be done just as how a real competition would be!
Date:
8/27/2019 - 9:30am-5:30pm

Location:
16607 Blanco Road, San Antonio, Texas 78232
You'll receive a Volume Lashes Co certificate upon completion of the training.